Case 1 – Complete Advanced Dental Reconstruction
This lady has had a combination of porcelain crowns, bridges and veneers. The gum line was corrected with crown lengthening. Whitening was used to brighten the lower teeth and gum plastic surgery used to correct the recession. All the phases of this work were done by Jonathon Ziff who is one of a few dentists able to carry out all of the different aspects of this treatment.

Case 2 – An Alternative to Complex Bone Grafting
This lady again had limited bone available for implants. However, she was reconstructed with upper and lower implant work, to produce a brighter American smile at her request. Excellent lip support was provided by the upper implant bridgework even in this case of limited bone.
Case 3 – Upper and Lower Implants and Bridgework
This ladies broken down teeth where rebuilt using a combination of implants, crowns and bridges. The transformation to her smile and confidence is illustrated.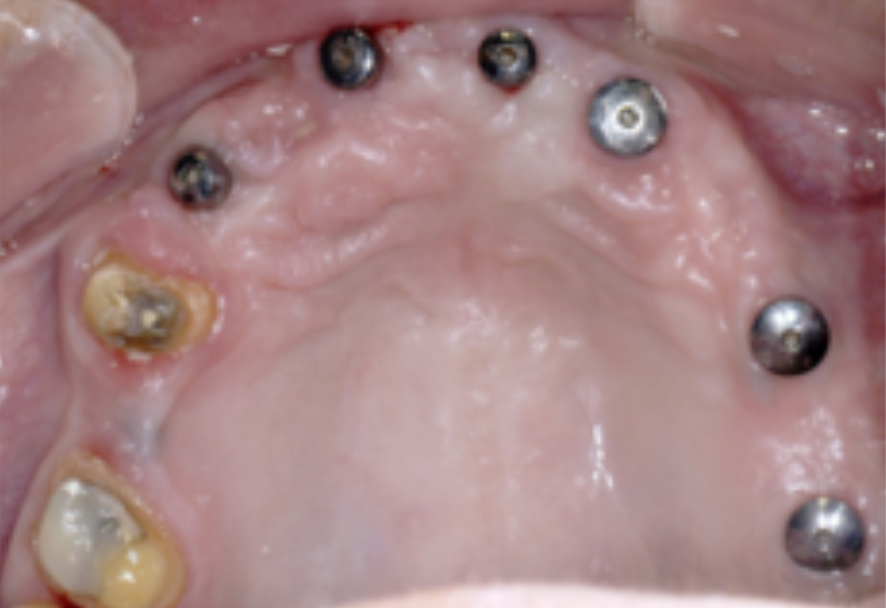 Case 4 – Loose Denture Replacement with Fixed Implant Bridges
This gentleman was brought to Jonathan by his daughter who is a dental nurse and had heard of Jonathan´s reputation through the profession. His failed teeth were replaced with dental implants that give him back an excellent chewing function.
Case 5 – Facial Support with Dental Implants
This lady had implants elsewhere but unfortunately there was no visible display of the upper teeth . Also the bridge failed to support her face and upper lip. Jonathan replaced the bridge with a fixed reconstruction that also replaced the missing teeth and bone to produce a far more youthful and pleasing appearance
Case 6 – Dentures Replaced with Fixed Implant Bridges, No More Palate and Thick Plastic
This gentleman had a loose upper denture. This was replaced with eight upper implants to provide a fixed upper porcelain bridge of teeth attached to the implants.
Case 7 – Upper Implants instead of Dentures
This lady presented with upper broken down roots . These required removal and instead of a full denture with all its chewing limitations , a fixed implant retained bridge was constructed . This is non removable and complete fixed so this patient can eat and chew anything .This treatment was also combined with a combination of crowns and genera to correct the wear and discolouration of her lower teeth
Case 9 – Front Incisors
Little George was referred from his dentist following a fall from his bicycle. Amazing lifelike build ups were used to give him back his front teeth, blending in colour to match the side ones.
Case 10 – Front Tooth
This lady was referred to Jonathan by her dentist to replace her failed front crown. The dental implant at the upper front tooth blends invisibly into her gum. This a demanding work due to the high smile line of this patient.